Gundagai Sewage Treatment Plant
Cootamundra-Gundagai Regional Council has been issued an Environmental Protection Licence by the NSW Environmental Protection Authority (EPA) for the Cootamundra Sewage Treatment System Licence number 1721
 Licence 1721 Document: Gundagai Sewage Treatment Works EPL 1721
 Cootamundra-Gundagai Regional Council has prepared a Pollution Incident Response Management Plan (PIRMP), which details the procedures for the response and reporting of pollution incidents.
Council's PIRMPs assists Council staff and personnel to correctly identify pollution incidents, reflecting the requirements of the Environment Protection Authority's Guidelines.
Utilisation of this plan aims to improve, monitor and demonstrate environmental performance.
Pollution Incident Response Management Plan – Gundagai Sewage Treatment Plant  Document: Gundagai_PIRMP_STP(EPL1721)_May-23
 Location of sampling/monitoring points are:
 Point 1 Outlet pipe that discharges into the Murrumbidgee River
 Point 2 Discharge from effluent storage tank to the Bidgee Banks Golf Course reuse area
 Point 3 Discharge from effluent storage tank to Anzac Park, Stan Crowe Oval and Owen Vincent Oval reuse areas
 Point 4a-c Utilisation area known as Bidgee Banks Golf course
 Point 5 Utilisation area known as Anzac Park
 Point 6 Utilisation area known as Stan Crowe Oval
 Point 7 Utilisation area known as Owen Vincent Oval
 Point 8 Groundwater monitoring bore
Gundagai Sewage Treatment Works EPL 1721
 Gundagai STP_Pollution Monitoring Data 2019_DMM_6029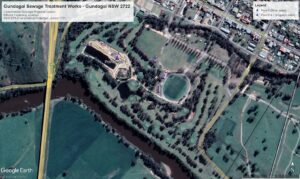 Pollution Monitoring Data_Gundagai STP_EPL1721_Bidgee Banks Golf Course
Gundagai STP- Fortnightly Report-Jan 2022
Gundagai STP- Fortnightly Report-Feb 2022
Gundagai STP- Fortnightly Report-March 2022
Gundagai STP- Fortnightly Report-April 2022
Gundagai STP- Fortnightly Report-May 2022
 2020 water quality Report for Gundagai STP – May 2020
Gundagai Sewage Treatment Plant (STP) Environmental Protection Licence No. 1721 Effluent Quality Monitoring Report March 2021