AFTER HOURS EMERGENCY SERVICE
For all Council after hours emergencies please contact 1300 459 689
NSW ELECTORAL COMMISSION
Expressions of interest are now open to work at the elections.  More information, including position descriptions, pay rates, and the link to apply, can be found on the website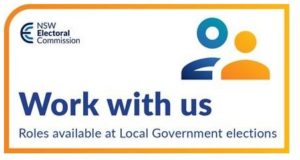 DAYS OF NATIONAL SIGNIFICANCE
Are you aware of a day or week of national or international significance that you would like to see acknowledged or celebrated within our community? Let us know so we can compile dates to be commemorated throughout the year.
Send dates to the General Manager, PO Box 420, Cootamundra  NSW  2590, drop your ideas into either Council office or, email to mail@cgrc.nsw.gov.au.
ORDINARY COUNCIL MEETING—Residents are advised an Ordinary Meeting of Council will be held on Tuesday 28 September 2021 commencing 6.00pm. The meeting Agenda will be available from Council Offices or website prior the meeting. https://www.cgrc.nsw.gov.au/business-papers-and-minutes/.  Livestreaming of the meeting will commence at 6.00pm.
  EXTRAORDINARY COUNCIL MEETING— There are currently no Extraordinary Council Meetings Scheduled
Is your community group holding an event you would like Council to promote?  Send your event details to
mail@cgrc.nsw.gov.au
.  Ensure you give us plenty of notice!
WEED SPRAYING
Council wishes to advise residents across the region that weed spraying will be undertaken. Notification is done in accordance with the Pesticide Regulation 1995. Herbicide application will occur during the months of  June 2021 to December 2021 in the town and village streets and lanes, for the eradication of weeds in the road and culverts, as well as weed control in public spaces.
MAJOR PROJECTS
Council is currently managing works in excess of $54 million.  The presentation below gives an outline of the progress of a number of these projects.