Australia Day Celebrations
2023 AUSTRALIA DAY CELEBRATIONS
Our region was blessed with a beautiful day on Thursday 26th January 2023, and festivities in the Cootamundra and Gundagai parks were jumping with live music, and a party atmosphere.
Albert Park Cootamundra was a picturesque setting to celebrate the achievements of community members and the welcoming of new residents.
1. CGRC Mayor Charlie Sheahan welcomes Kankanit McDonell and Piraya Rakkid as new Australia residents.
2. Mayor Sheahan, Jason and Tanya Baldock, (Australia Day award), Grace Hoey (Young Citizen Award), Garry James (Citizen of the Year Award), Joshua Purtell (Sportsperson Award) and Australia Day ambassador Bruce Whately at the Cootamundra event.
 Carberry Park in Gundagai was the ideal setting for Australia Day celebrations. Music by the Gundaguys and delicious food from the Lions Club saw a crowd gathered to recognise local residents achievements.
Australia Day award recipients cut the cake.
Phil Smith – Citizen of the Year Gundagai. Indiana Cooper – Young Citizen of the Year Gundagai. Braith Winner & Archie Wheaton – Sportspersons of the year Gundagai.

CGRC Media Release – AUSTRALIA DAY AMBASSADORS ANNOUNCED
NOMINATE NOW FOR CITIZEN OF THE YEAR, YOUNG CITIZEN OF THE YEAR, SPORTSPERSON/SPORTS ACHIEVEMENT OF THE YEAR
Nominations close 5pm, 18 November 2022.
Australia Day Nomination Form 2022
Australia Day in our Parks – 2022
1. Australia Day Ambassador Mr Bryce Collins, is pictured with Young Citizen of the Year, William Ellis, Citizen of Year Helen Eccleston Sportsperson of the Year Samantha Graham, and CGRC mayor Cr Charlie Sheahan, at Jubilee Park, Cootamundra.
2. CGRC deputy mayor Cr Leigh Bowden, Young Citizens of the Year, Lilly Crane and Bridie Ingold, Judy Pigram, Citizen of the Year, Robert Lindley, Australia Day Ambassador Jeremy Jones, Helen Turner, Marie Lindley, Dick Jones, Liam Sadler, John Lindley, and Cr Abb McAlister cutting the cake at Australia Day Celebrations held in Carberry Park Gundagai. Absent from photo Sports Person of the Year Shaun Smith.
3. The Gundaguys kept the crowd entertained in Carberry Park Gundagai
4. Marianne McInerney recited a lovely Banjo Patterson poem "In the Droving Days" to a captivated audience in Jubilee Park Cootamundra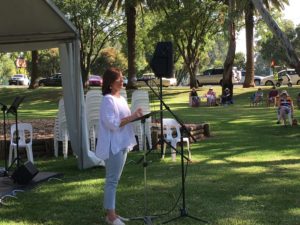 5. The Australia Day Ambassador for Gundagai Jeremy Jones talks to the crowd in Carberry Park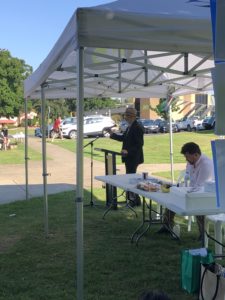 6. Cootamundra's Australia Day Ambassador Bryce Collins, spoke to the audience about his experiences.