School Holiday Activities
September/October 2022 School Holiday Activites across the LGA.
The school holidays are just around the corner keep scrolling for a huge list of activities in Cootamundra. Regretfully scheduled activities at Gundagai Library have been cancelled due to unforeseen circumstances.
Cootamundra Library is packed with activities to keep the kids and grandkids entertained! Don't forget that bookings are essential for our holiday programs – Ph Coota Library on6940 2200 for tickets or enquiries. Don't miss out!
The Cootamundra Youth Council has three great activities for ages 12+ Check out the CYC Facebook page.
BORROW AND WIN!        FREE YOUTH GROUP MUSIC PROGRAM!
You could win coffee and cake at Dusty Road Coffee Roasters (Cootamundra) or Niagra Cafe (Gundagai) just by borrowing during the holidays!
Just drop your borrowing receipt in the prize box to go in the draw! Enter every time you borrow!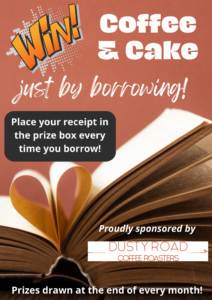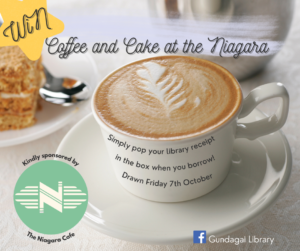 POSTPONED DUE TO WET WEATHER …..
CYC SKATE WORKSHOP – 12.30pm-2.30pm Wednesday 28 September 2022 – waiver.smartwaiver.com/v/alsskateco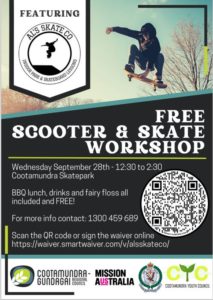 FREE YOUTH GROUP MUSIC PROGRAM!
Guitar – 4 October 2022 10am to 11.30am  Singing – 5 October 2022 10am to 11.30am
Guitar and singing workshops with Riverina Music Therapy  FREE!  To book, phone Tegan on 0435 366 251 or email tegan@riverinamusictherapy.com
POSTPONED DUE TO WET WEATHER ….. Al's Skate n Scoot Session – Gundagai Skatepark – 10am Wednesday 28th September 2022
Make an adorable pet rock to take home and keep!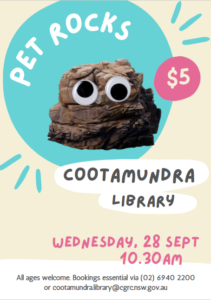 Air-Dried Creatures!
CANCELLED …..Gundagai Kids: Wagga Bus Trip from 9am Thursday 6 October 2022 – Call the Library on 69440270 to book your seat.
CYC NATURE WALK – PIONEER PARK COOTAMUNDRA 6pm FRIDAY 7 OCTOBER 2022 – FREE FAMILY EVENT
Try our gaming and VR experiences this holidays! It's out of this world! No booking required – free activity.
Challenge yourself with our big boxes of Lego! Every day in the holidays – no booking required.