Farm Community Counselling Service
The Service
The main role of the Farm Community Counsellor Service is to provide 1:1 professional support and/or counselling to farmers, their families and the wider agricultural community including people who work in agriculture and rural communities impacted by the drought.
The counselling service is structured and time limited depending on the person's needs and situation.
It is designed to support psychological resilience – by developing practical coping mechanisms with regard to the psychological impacts of the drought. Farm Community Counsellors can also link clients into relevant services dependant on the individual and their needs. This could include the Rural Financial Counselling Service, GP's, Specialist Mental Health or support services.
The Farm Community Counsellor Service, is designed to be convenient for our clients – this means that we can see clients in their own home, in the paddock, at a café or wherever is most comfortable for them.
If counselling doesn't suit, we are great at checking in through a phone call, email or popping in to say Hi!
The counselling service is free and confidential.
Referrals can be made by the individual by calling the Farm Community Counselling Service Intake Line on 0436 811 692, or by contacting your local Farm Community Counsellor directly.
Contacts
Jenn Pegler Albury Mob: 0436 942 104 Email: jennifer.pegler@health.nsw.gov.au
Louise Fraser Deniliquin Mob: 0436 811 692 Email: louise.fraser@health.nsw.gov.au
Locations
• Albury
• Deniliquin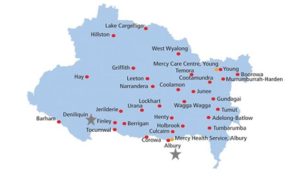 The Situation
With the current conditions, farmers, their families, the wider agricultural sector and communities are facing tremendous pressures. Farmers often have to find off farm work as they may not have the full support of the farm itself.
Local businesses and communities also feel the effects of drought, and can be severely affected also. Many factors that influence the farms viability are out of the farmer's control. Factors that are out of one's control, often cause us to feel the most stress.
Factors affecting stress on the farm:
• The weather
• Increased input costs
• Large debt loads
• Livestock health
• Erratic markets
• Government regulations and complicated paperwork
• Long working hours
• Disagreements with other family members in the farm operation
• Uncertain crop yields and fodder production
• Machinery breakdowns
• Handling dangerous goods e.g. farm chemicals
Farm Community Counselling can help individuals/communities deal with stress. People vary in their ability to handle stress. Stress is often dependant on a number of factors including personal experience, individual skills, support and environment. Consequently, what one person may experience as stress, another may view as a challenge.
How Can You Help?
You aren't expected to be an expert in mental health but may notice changes in the farmers, agricultural workforce, local business owners or community members that you interact with that may indicate that they are not travelling as well as they had previously. If any of these changes are noticed, this could indicate that the person might benefit from some form of counselling or support to address these symptoms.
Common changes might include, but are not limited to:
Physical Emotional Behavioural
• Headaches • Frustration • Overeating
• Stomach problems (Constipation or Diarrhoea • Increased angry blow-ups • Difficulty relaxing: restlessness/lack of concentration
• Chest pain • Impatience • Sarcastic arguments
• Rapidly beating heart • Difficulty controlling emotions • Increased smoking/alcohol consumption
• Change in blood pressure • Low self esteem • Changes in sleeping habits
• Grinding/clenching teeth • Depression • Relationship issues
• Fatigue • Short tempered • Neglecting diet
• Change in sexual interest • Thoughts of taking your own life • Trouble adapting to changing circumstances
• Procrastination • Neglecting your existing health conditions • Withdrawn from others
• Impulse buying/gambling