SHADE SAILS PROTECT OUR KIDS
The installation of shade sails in Gundagai's Carberry Park is being undertaken by Cootamundra-Gundagai Regional Council (CGRC).
Council will begin the installation of the sails with the removal of a dangerous tree, which has been dropping limbs onto the toddler's playground. The risk of serious injury to youngsters and the public at large was too great with the size of the limbs that had fallen recently, shade will be provided to the area with the erection of a large sail.
Four sets of sails obtained under grant funding will be erected over the playground equipment within the park. The sails are designed to block the sun's harmful UV rays, whilst allowing users to enjoy the outdoors regardless of the weather.
Picture and caption:
The unfortunate decision had to be made to remove large dangerous tree that has been dropping limbs onto the playground area. The tree will be replaced with more appropriate shade sails to protect users and equipment from harsh UV rays.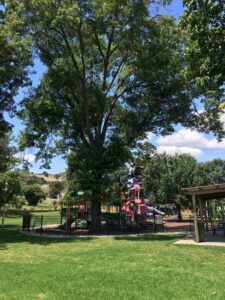 2. The plan of shade sail locations.