Cootamundra-Gundagai Regional Council (CGRC) Cr Abb McAlister was at the Dog on The Tuckerbox site on the Hume Highway at Gundagai today, to promote the Fatality Free Friday road safety initiative.
The Australian Road Safety Foundation (ARSF) Fatality Free Friday campaign marked for Friday May 29 is designed to foster community ownership of complex road safety issues and encourage action by those who can make a significant difference in reducing road trauma. It aims to promote the target of Towards Zero road trauma victims by aiming for the stepping stone of one day where no one dies on our roads.
Cr McAlister was joined by Southern Traffic Group, Highway Patrol officers, Senior Constables Jamie Hampton and Justin Knewstub, and CGRC Road Safety Officer Anthony Carroll, to create an impressive display promoting road safety messages at the iconic site.
Cr McAlister said Council was supportive of all road safety initiatives.
"Council fully supports the Fatality Free Friday initiative, this is a great initiative. It's sad to hear about fatalities on our roads. Council is right behind our police and road safety initiatives to reduce these fatalities, we want to get to zero, and get the word out there as much as we can," Cr McAlister said.
Visitors were given pamphlets and promo material to reinforce road safety messages and create awareness of the campaign.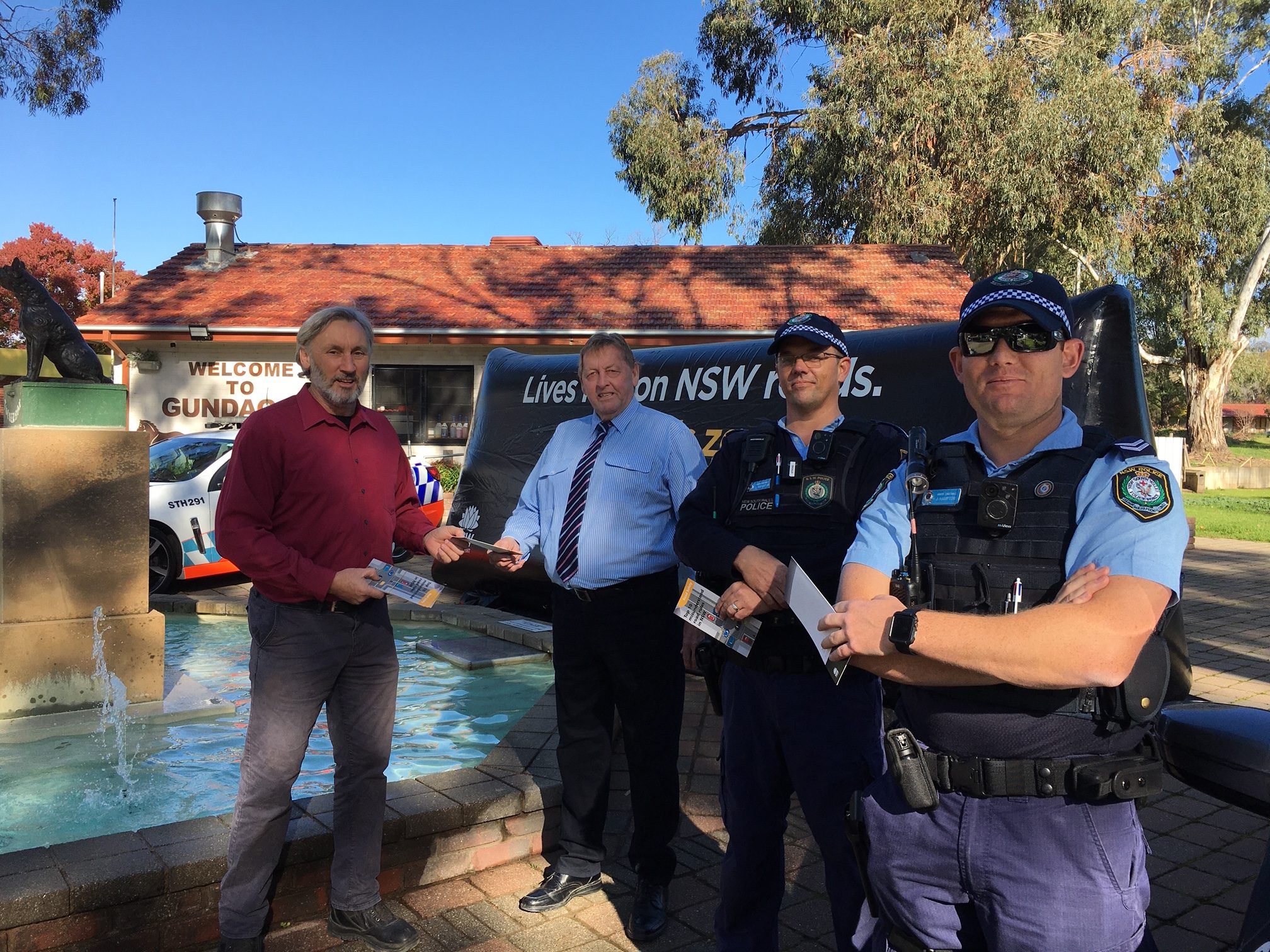 Photo and caption:
CGRC Road Safety Officer, Anthony Carroll (left) hands pamphlets to CGRC mayor Cr Abb McAlister and Southern Traffic Group, Highway Patrol officers, Senior Constables Justin Knewstub and Jamie Hampton at the Fatality Free Friday promotion at the Dog On the Tuckerbox site.