Anzac Day 2020 will be a vastly different commemoration due to the COVID-19 pandemic. With services across the region cancelled, residents are encouraged to take part in The Driveway Tribute to the Fallen initiative.
Cootamundra-Gundagai Regional Council is endorsing the initiative and encourages residents across the region to assemble in their driveways from dawn to commemorate Anzac Day 2020 reflecting on the sacrifices our fallen heroes.
What began as a grassroots idea to mark Australia's great day of remembrance has grown into a national campaign with RSL branches in every state unanimously endorsing the gesture, with families and individuals across the nation expected to stand at their gates, on balconies or verandahs at 6am and hold a candle to fallen heroes.
Local radio stations have come on board and will be broadcasting special programs to coincide with the initiative.
ABC Radio coverage for Anzac Day will be:
5.30am: A live broadcast of the National Memorial Service from the Australian War Memorial on ABCTV, iview, Radio and streamed on Facebook and YouTube. This includes from around 6am, The Last Post and a minute of silence, where you can pay your respect at the same time as your local community.
11.30am: Quiet moment of reflection which includes The Ode, The Last Post followed by a minute silence across ABCTV, iview, Radio and Facebook and YouTube.
6.55pm TV and 7.05pm Radio: The Governor-General, David Hurley Anzac Day message.
Local service on TV, Local Radio, Facebook and YouTube Streams:
NSW: Sydney, Anzac Memorial Hyde Park:Morning service 10:00am – 10:30am
Roccy FM 's Production Manager/ Breakfast Announcer Dave Quigley has confirmed the station will be doing a Special ANZAC Day presentation starting at 5.30am (on Saturday) which will run across the FM Network, coinciding with the RSL's campaign for 'Light Up The Dawn'.
"There will be a number of elements to this special event, including The Last Post and a minutes silence so we can remember the sacrifices made by many and pay our respects together," Mr Quigley said.
2TVR Sounds of The Mountains, will be participating with special segments throughout the day. Station Manager-Technician Dave Eisenhauer provided a rundown of the stations programs with pre-recorded messages from Tumut and Gundagai RSL Sub branch members.
"We started work on this many weeks ago before anything was announced about the national radio and TV doing national broadcast services. Ours is really local and will sound very familiar to the communities in our region and will certainly complement the big broadcasters' ceremonies and services," Mr Eisenhauer said.
Mr Eisenhauer added, "There's also a dawn service recorded for broadcast, this is from Tumut RSL Sub Branch but is designed to be shared across the whole region as we will also be broadcasting to Tumbarumba, Walwa and district on the morning of the 25th as well as Gundagai and Tumut regions.
The sub branches have really put in an extra effort this year, and the station is proud to be able to do our part in bringing something special to the region on Saturday,"
Member for Cootamundra Steph Cooke encouraged all to commemorate Anzac Day at home and has a tutorial on wreath making on her Facebook page.
https://www.facebook.com/stephcookeMP/videos/223712292223887/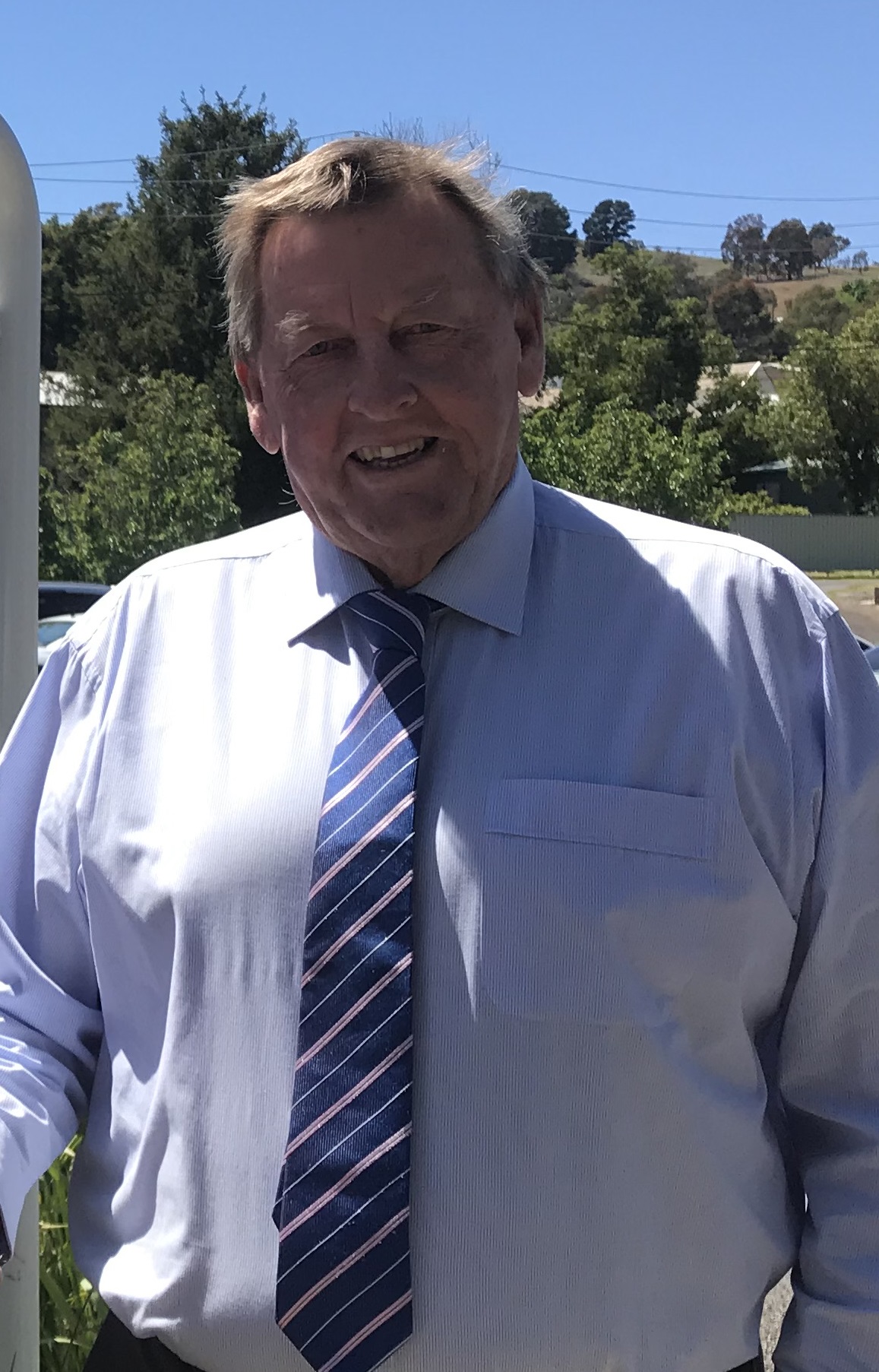 Local Cootamundra Business, Coota Signs, has made available to businesses an Anzac Day sticker for display free of charge. The stickers are made from easy to apply vinyl and are easy to remove. There is an option to donate $5.00 of which 100% will be donated to Legacy. To date the business has raided over $1350 for this worthwhile cause.
CGRC mayor Cr Abb McAlister said the initiative has the potential to make Anzac Day 2020 a very special event.
"I'd like to encourage residents to take part in this initiative, and unite in recognising all armed services and the sacrifices they have made," Cr McAlister said.
"I do recognise that for many this day is a deeply personal event, and the reflection individual and private, but I would encourage those who can to post a picture of your family holding vigil to the Council Facebook page so we can keep it for prosperity and recording of this history making event," Cr McAlister added.
Picture and caption:
CGRC mayor Cr Abb McAlister is encouraging all residents to participate in the The Driveway Tribute to the Fallen initiative.