-FOR IMMEDIATE RELEASE-
13 August 2019
Bin Notices to assist with efficient garbage collection services.
Residents in Cootamundra will soon see notices attached to their garbage bins. The notices will advise residents of new regulations regarding the collection of bin services.
Cootamundra-Gundagai Regional Council (CGRC), has implemented the notices, due to the contamination and overloading of bins and the difficulty being experienced by the collection crews and recycling teams in ensuring a productive and practical garbage disposal system is maintained.
Contamination of recyclable material is a problem experienced that Council needs to address. When a recycling bin is contaminated with incorrect items, the recycling process becomes less efficient and can result in valuable resources being sent to landfill rather than being reused or recycled. This causes both financial and environmental loss.
Contamination makes the service more expensive, poses risks to workers sorting the materials and can result in truckloads of recycling or green waste being sent to landfill. Contamination can also be hazardous for workers at the Material Recovery Facility (MRF).
There can be some confusion associated with recycling. CGRC has put together a pack for interested community members to collect from Cootamundra's Administration offices.
Contamination can cause all your recycling efforts go to waste below are some tips on the items that do not belong in your recycling bin.
Greasy pizza boxes, take away food containers.
That brown, oily takeaway bag and cheese-crusted pizza boxes may seem like great additions to your recycling bins, but not if they are contaminated with food. If there is food or grease on it, it belongs in general waste.
Nappies
You'd be surprised at how many disposable nappies make their way to the recycling system. Not only are they not recyclable, the fact that they are soiled makes it unsanitary for workers to deal with and contaminate other good quality materials in the bin. Opt for cloth nappies instead or put your disposable nappies in general waste.
Soft plastics
While most rigid plastic containers can be recycled, soft plastics do not belong in recycling bins as they can get caught in sorting machinery. A better option is to collect soft plastic separately and take them to a nearby supermarket that recycles soft plastic or better yet, avoid them altogether.
E-waste
Computers, mobile phones, printer cartridges and other electronic devices are considered e-waste and do not belong in your commingled recycling bin. Not only will it contaminate the general recycling stream, but it also contains hazardous materials that is a risk to anyone handling it incorrectly. To recycle unwanted electronics, find your nearest e-waste drop off point here.
Used tissues or paper towels
Soiled tissues, paper towels and serviettes are likely to have absorbed water and other unsanitary substances making them unsuitable for recycling.
Food waste
Food waste such as fruits, vegetables, eggshells and bread are some of the biggest causes of recycling contamination in Australia. Food waste should be disposed of in the general waste bin. Or start your own worm farm or compositing bin.
Crockery and Pyrex
Broken crockery and tempered cookware glass like Pyrex cannot be sorted through the MRF and should be kept out of the recycling bin. Crockery is also not accepted and should go in general waste instead.
Textiles
All clothing and fabric are considered contamination and are not accepted in the commingled recycling bin. Even worse, textiles can get tangled in sorting machinery and can cause damage.
Garden – Green Waste
Garden or green waste includes leaves, grass clippings, branches and flowers. They are considered contaminants in the Yellow recycling bin. Use the dedicated green waste bin if you have one. This allows your garden waste to be collected and recycled into compost or mulch. Do not place plastics of any kind, string or metal objects in this bin.
Bagged recyclables
Recycling should always be loose in your recycling bin. Because plastic bags cannot be processed at sorting facilities, this means the entire bag of otherwise good quality recycling will go to waste.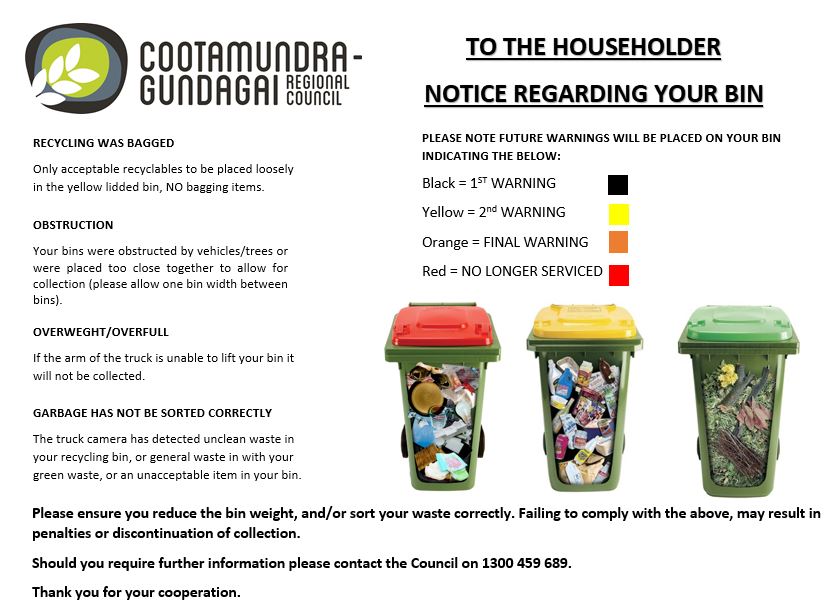 Contaminated or dirty recyclables.
To ensure the safety of workers in the MRF, residents are asked to wash out bottles, jars and plastic bottles before depositing into the recycling bin. This reduces odour and bacterial growth and helps make the recycling process more efficient at the recycling plant.
The notices will also advise residents that overloading of bins and having obstructions that don't allow the truck to successfully grab the bin will result in warning stickers being attached to the residents bin.
CGRC Garbage Trucks are fitted with cameras and detection units to identify contamination from individual household bins.
Council is committed to delivering effective and efficient service to all residents, including the townships of Cootamundra and Gundagai, the villages in the municipality and the rural landholders. CGRC is striving to have effective and efficient garbage removal, recycling and reducing landfill and other associated costs with residential rubbish removal.
Picture and caption; Cootamundra residents will be seeing these notices attached to bins.
Cootamundra-Gundagai Regional Council
www.cgrc.nsw.gov.au For further media information contact:
Maxine Imrie Media Officer 02 6940 2100
Maxine.Imrie@cgrc.nsw.gov.au