Safety improvements completed for local causeway crossing
19 February 2018
Cootamundra-Gundagai Regional Council has completed the improvements to the Gundagai Road and Cowcumbla Street intersection in Cootamundra.
The upgrades will provide safer heavy vehicle movements to the Cootamundra industrial area, with the introduction of turning lanes on Gundagai Road. Traversing Muttama Creek during wet weather will also be safer with the installation of box culverts replacing the low level causeway.
The project was largely funded by a $720,000 investment from the NSW Government's Restart NSW Fixing Country Roads program, with $250,000 in additional funds provided by Cootamundra-Gundagai Regional Council.
Works started in January 2017 to improve drainage at the Gundagai Road intersection. Physical works on the causeway began in July 2017 and were completed in late October. The road construction and sealing was completed prior to Christmas and then fully open to traffic.
The work on the causeway has seen the level raised by approximately 1.2-metres and the width also increased to allow two vehicles to pass safely at the same time.
Member for Cootamundra, Steph Cooke, said the project will provide a significant boost to local industry and the wider community.
"We are committed to funding upgrade projects that improve safety, efficiency and productivity for both regional industry and the wider community, supporting economic growth in our regional heartland," Ms Cooke said.
"This upgraded freight link will cut transport costs for local businesses and create a more efficient and reliable road network for vehicles of all sizes."
The NSW Government has reserved $500 million for the Fixing Country Roads program over multiple funding rounds.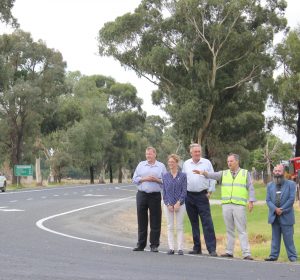 Photos and caption: Safety improvements for Cowcumbla Street causeway and turning lanes on Gundagai Road will improve traffic movements. Member for Cootamundra Steph Cooke, Cootamundra-Gundagai Regional Council Mayor Cr Abb McAlister, councilors Dennis Palmer and Craig Stewart, with CGRC Manager Civil Works inspect the new causeway and Gundagai Road turning lanes.