Variety Livvi's Playspace – Albert Park Cootamundra
ITS OPEN ITS FUN AND ITS DELIVERED
A SNEEK PEEK AT THE WHAT'S IN STORE AT LIVVI'S PLACE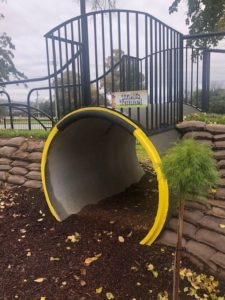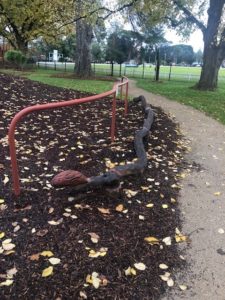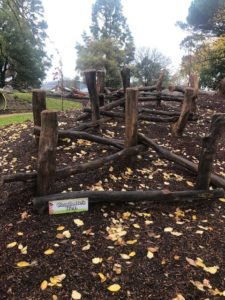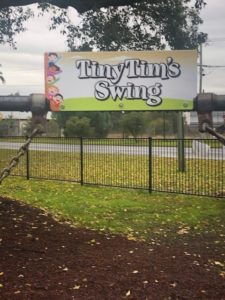 LIVVI'S PLACE ALBERT PARK OPENING
The partnership formed between Cootamundra-Gundagai Regional Council (CGRC) and the Touched by Olivia Foundation, to deliver a playspace in Cootamundra's iconic Albert Park, has been realised. Livvi's Place at Albert Park Cootamundra will officially open on Tuesday 28 June 2022 from 10am.
The original concept was to create a unique, inclusive play experience, promoting play for everyone. The project has delivered a space that is set to challenge and encourage adventurous and active nature play.
Extensive community consultation was undertaken in 2020, which included a six-week online survey, face to fact consultation with key stakeholders such as the mayor, representatives from Elouera Association, LFE Community Supports, CGRC Access and Inclusion Committee, Lions Club, Scouts, and Men's Shed representatives. School Imagineer workshops were held with local schools where 130 students participated and community meetings.
As a playspace, the feedback from the children indicated that they wanted to see a space that demonstrated Cootamundra's inclusiveness and promoted the town as a place for visitors. Their feedback also specified the space needed to make everyone feel welcome. The games they liked to play were centred around running, climbing, jumping, having hiding spaces, negotiating obstacles and being imaginative. They wanted a giant treehouse with a ramp that spirals up the tree so everyone could enjoy the experience. They wanted to climb over rocks and swing on different types of apparatus and have areas that they can buddy up to talk and make new friends. They wanted to see water features that encouraged imagination. Most of all they wanted to be challenged and given a space that allowed them to seek new adventures.
The feedback from parents and carers showed that water and water-based play was important, that the landscape remained foremost, with existing trees maintained and the use of natural materials such as dirt mounds and tree logs be utilised as much as possible. They said that kids need to challenge themselves when playing, so risk progression of equipment to be considered and play elements should include ramps and transfer stations so ALL kids can access regardless of ability. The adults wanted the area enclosed, so children were secure and safe in the space, without fear of wandering off onto busy roads.
Both groups saw that an area should be designated for quiet and reflective time, a space that encourages people to enjoy nature, the landscape and meeting up with family, friends and making new friends. They were keen to acknowledge the Indigenous connections to the space, with elements such as the long neck turtle theme to be included.
Children and adults with disabilities and special needs indicated they wanted a space that encouraged them and others to play together, they wanted to be included in climbing a tree, splashing about in water, and rolling down a mound. They wanted to have their senses challenged through touch, feel and smell. Most of all they wanted to meet new friends and experience playtime that is often not possible for them in conventional playgrounds.
Kim Becherand, Head of Inclusive Play at Touched by Olivia, a driving force behind the playspace, said the consultation process highlighted a need for a universal design that facilitated intergenerational play.
"We are so proud of Livvi's Place, Albert Park and have had such fun and challenges in the creation of it. The children and teens of Cootamundra visioned this space and set the bar very high.  We commend the commitment, dedication, and resourcefulness of CGRC and the whole team who worked on it. This playspace on such a low budget showcases inclusive design, sustainable resources and landscaping doing the heavy lifting to create a space where everyone can experience the benefits of play and passive recreation in community," Ms Becherand said.
Member for Cootamundra, Steph Cooke said that she was delighted to see this project take shape and is looking forward to being there to see the first children get the opportunity to play on it.
"This playground, which had $200,000 of funding provided by the NSW Government through the initiative Everyone Can Play, has been built in a way where all children, regardless of challenges, can have the chance to play, imagine and explore." Ms Cooke said
The opening will be attended by Member for Cootamundra, Minister for Emergency Services and Resilience, Minister for Flood Recovery, Steph Cooke, children, parents, Councillors and dignitaries involved in the project.
Picture and caption: The giant tree house, that has utilised an existing tree within the park, and has ramps and transfer stations for children of all abilities to enjoy.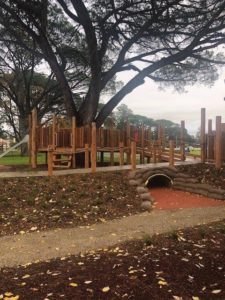 CALL FOR PATIENCE AS PARK ENTERS FINAL STAGES OF CONSTRUCTION. 18 May 2022
Cootamundra-Gundagai Regional Council (CGRC) has been receiving multiple enquires from the public regarding the opening of the Livvi's Place Playspace in Albert Park Cootamundra.
The all-inclusive playspace has been attracting interest from residents, travellers and interest groups since construction commenced in September last year. With much of the work now complete preparations are underway to formalise an opening date.
Work still to be carried out, before the opening includes the installation of some additional park furniture, minor repair works and fine turning of the new equipment, the completion of signage, additional planting of trees and shrubs and obtaining a final risk certification for use by the public. The NSW Department of Planning will also sign off on the project.
Manager Waste, Parks & Recreation Services for CGRC, Mr Wayne Bennett said there was also a need for the new plants and turf to settle in before the opening of the playground can take place.
"We've had a lot of rain, and the turf that has been laid will need a little time to take hold before it can take a lot of traffic. It's all those small fine-tuning things that take time, and we want it to be perfect before we open it up for public use," Mr Bennett said.
The new inclusive toilet facilities are currently being made off-site and should be ready for installation by July/August. The installation of this new facility will not impact on the new playground opening.
CGRC mayor, Cr Charlie Sheahan said the playspace will be a huge asset for the region and everything needed to be right before an opening can take place.
"There's been a huge amount of planning, work and foresight go into this space, we've had partnerships with Variety, Touched by Olivia Foundation and the NSW State Government, CGRC staff and various contractors have worked side by side to bring this space to fruition. Everything needs to be ready; it will be our only chance to make sure that all the components that make up the space meet expectations, and operate correctly," Cr Sheahan said.
"I know there are some excited kids out there, as well as adults, I just ask for your patience and once the Livvi's Playspace at Albert Park is open it will be well worth the effort," Cr Sheahan added.
It is anticipated that the new playground will be ready by no later than July.
Council will be arranging for a formal and informal open events. The informal will involve the local Council and our community while the formal will involve all persons/groups in the playground's development including pollical dignitaries.
Pictures and captions:
Livvi's Place Playspace at Albert Park has a variety of activities for educational and active play, the playground will open soon.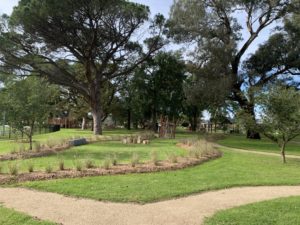 ALBERT PARK ROCKS 9 November 2021
Cootamundra's Albert Park is currently undergoing a transformation with the installation of an all-inclusive playground. Preliminary ground works have commenced on the area. A major component of the play space will be nature play, with sand, water, rolling mounds, rocks and sensory items including the planting of grasses and other species of plants.
Cootamundra-Gundagai Regional Council (CGRC) has welcomed the donation of large rocks from Mawson's/ Milbrae Quarries. The rocks were delivered to site this week and will be placed into position as the work proceeds.
Mawson's/Milbrae Quarries made the donation of the rocks as they believe the playspace is a great opportunity for the broader community to come together and use the area, regardless of age, ability, and capability.
CGRC mayor Cr Abb McAlister welcomed the donation and thanked the company for their contribution.
"I'd like to sincerely thank the people from Mawson's/Milbrae Quarries for getting on board with this project. The donation of these huge rocks will enhance the area and the experience people will have when visiting Albert Park. The company has made a significant gift to the community," Cr McAlister said.
"The donation of the rocks is huge, but also the time and equipment used by Mawson's/Milbrae Quarries in loading the rocks and assisting with bringing them to site is substantial," Cr McAlister added.
The Mawson's/Milbrae Quarry is located in Cootamundra and makes up part of E.B. Mawson & Sons Pty Ltd Trading as Milbrae Concrete, Quarries & Mining Services. A privately owned company providing specialist services in the quarrying and mining industry and concrete manufacture. With over 35 years in the industry, Mawson's/Milbrae Quarries provide quarry materials, transport, and mobile crushing services.
Picture and caption:
Large rocks donated by Mawson's/Milbrae Quarries have been delivered to the Albert Park Playspace, as part of the all-inclusive playground being constructed.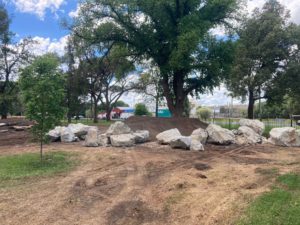 PLAY WORKSHOP AWARDED CONTRACT FOR ALBERT PARK – 16 Sept 2021
Playground specialist company Play Workshop has been the successful tenderer for the inclusive playground to be constructed in Cootamundra's Albert Park. The company boosts over 30 years combined experience from their team in designing and implementing playground projects and have untaken projects for many local councils and other organisations across NSW and Australia.
One project Play Workshop undertook recently was the construction of a playground area at the Forbes Aquatic Centre – Lake Forbes. This project included several custom ironbark pieces, made in-house, including a tepee, a large log balancing structure and a combination rope agility structure, drilled and constructed in situ. The playground is considerate to the natural landscape and provides a great area for all to enjoy.
Play Workshop expects ground works to commence in November 2021, when all equipment and materials required have been sourced and preliminary works being undertaken by Cootamundra-Gundagai Regional Council (CGRC) are completed.
CGRC and contractors have commenced work in Albert Park in preparation for the Livvis Place, inclusive playground with the erection of fencing, construction of earth mounds and surveying of the site. Local contractors are being used where possible. The fenced off area will now include seven entry points, after concerns were raised on the single-entry point included in the initial design.
The $400,000 project has been funded by the NSW Government Everyone Can Play Grant Program CGRC and CGRC and will see a playspace that is enriching and inspiring for all people of all abilities. The area will assist with providing a creative, imaginative space that will promote healthy activities, connectivity and be inclusive.
The design for the area, will have a theme, embracing "The Magic in the Trees", and will utilise custom built timber play equipment which will include a bespoke accessible tree fort. Sand and water play features, sculpture, a nature play zone which includes brush tent frame and furniture including picnic seating, electric barbeque, and shelters will be discovered as an all-access pathway meander through the area. Landscaping will comprise of sensory plantings to stimulate the senses beyond the visual appeal.
CGRC mayor Cr Abb McAlister said he was pleased the contract had been awarded to Play Workshop and congratulated the company on their successful tender.
"It was great to see the calibre of companies that tendered to for the project, it's a special one for our community, and will ultimately see a public space being utilised by those who have been denied the enjoyment of creative recreation by traditional play areas," Cr McAlister added.
Picture and caption:
Artists impression of accessible tree fort to be constructed in Cootamundra's Albert Park as part of the Livvi's Place project.
ALBERT PARK TO BECOME A PLACE FOR ALL TO SHARE
Contractors have commenced work on the exciting new space in Cootamundra's iconic Albert Park. Cootamundra-Gundagai Regional Council (CGRC) in partnership with Variety, the children's charity secured funds to build a Variety Livvi's Place.
A Livvi's Place provides a unique environment for children of all ages and all abilities to play side by side. Extensive research and community consultation have gone into the development of these Playspaces to make them truly world class facilities.
Key characteristics of the Livvi's Place is equal access for all abilities, which include soft fall rubber matting, visual and audio stimulation and are configured to maximise creative, physical, social, and cognitive play. The totally fenced area provides safety and security for all ages to enjoy the space giving parents and carers piece of mind, their children can explore and discover the sensory adventures developed within the space.
The large established trees within the park will make up part of the design and offer shade spaces, landscaping will be enhanced to encourage sensory and visual experiences. These features will offer a heightened experience for all people of all abilities and inspire tactile exploration.
The natural bushland theme will include natural seating with rocks and logs, pathways will meander through the space, with picnic tables and a barbeque included. A Yarning Circle will encourage cultural awareness and has been incorporated with the participation from the Cootamundra Aboriginal Working Party.
The area where the existing equipment including the picnic tables and barbeque will be reinstated as a grassed area and some equipment re-installed in the Livvi's Place space.
Albert Park was chosen as the ideal site for a Livvi's Place due to its proximity to Cootamundra's CBD, existing access to footpaths, has a disabled toilet and parking areas that suit the unloading and loading of mobility equipment. The location is close to the Visitor Information Centre, Railway Station and is highly visible to visitors passing through Cootamundra.
Extensive consultation was undertaken in September 2020, the community had the opportunity to attend workshops, take part in an online survey and meet with representatives from Variety. Local schools, disability support services and the Council's Access and Inclusion Committee were all stakeholders and contributed to the consultation process.
CGRC mayor Cr Abb McAlister said the development of a Livvi's Place in Cootamundra will be a space that will allow freedom of movement without restriction and will offer different activities.
"Albert Park is an open public space; this facility will serve the needs of all members of our community especially those who don't have the opportunity to play and explore in other playgrounds. It's a need that currently doesn't exist in our shire.
This very special place will accomplish some of the goals we committed to achieve in our Disability Inclusion Plan, develop a positive community attitude towards people with a disability and create a more liveable community for people with a disability," Cr McAlister said.
Livvi's Place in Albert Park Cootamundra will join an elite group of communities who offer a unique park space that has been carefully crafted as an inclusive playspace for everyone to enjoy. Expected completion is March 2022.
Detailed maps of the masterplan can be found on the by clicking on the links below:
210319 Albert Park Sections L-500 Draft
210518 Albert Park L-001 Masterplan (A1)
210319 Albert Park Masterplan L-001 Draft
-END- (2/9/2021)
Albert Park to become inclusive.
Cootamundra-Gundagai Regional Council (CGRC), in partnership with Variety – the Children's Charity, is creating an inclusive playspace at Cootamundra's Albert Park.
Cootamundra-Gundagai Regional Council have formalised a partnership that will see the construction of a world class inclusive playspace in the park. This inclusive playspace will be designed to meet best practice principles regarding inclusive play and plan for associated infrastructure such as path connections and accessible toilets. Through clever design and engineering, the new facility will give people of all abilities a fun and challenging place to play side-by-side.
CGRC mayor Cr Abb McAlister said the playspace will be a unique place where people of all ages and abilities will be able to play together.
"It will become a key community hub, and form part of a national network of inclusive play spaces that Variety has helped create," Cr McAlister said.
The area which will be known as Variety Livvi's Place, Albert Park and will give children and families of all abilities a place to play and provide the community with a space to gather and connect. The playspace will have a positive impact on the lives of children and their families within our region, as well as the wider extended community. The playspace will also meet council's vision in their Disability and Inclusion Plan and wider strategic plan objectives, with aspirations to create an inclusive, diverse, healthy and socially connected community.
Local residents will be asked to get involved in shaping the design of the playspace. Residents are invited to come along to a fun afternoon on Wednesday 23 September 2020 at 7pm and Thursday 24 September 2020 at 9.30am to talk to key stakeholders about what is needed to make this new facility fun, accessible and inclusive for the community.
You can have your say and help us create a magnificent space by completing the survey following this link: https://www.surveymonkey.com/r/VarietyLivvisPlayspaceAlbertPark
Variety has successfully partnered with other local governments to deliver similar playspaces in Bankstown and Taree. These facilities are thriving family destinations where all children are welcome and included. Variety will also support the development of a fundraising initiative for the project, working with local businesses and individuals to financially support the inclusive playspace in reaching its full potential.
Variety joined forces with the Touched by Olivia Foundation in 2018 to continue working with communities all across Australia to build inclusive playspaces known as ''Variety Livvi's Place". Working with these partners to deliver the project provides an opportunity to create a truly inclusive playspace in the heart of Cootamundra that will engage all children and their families and carers in the act of play.
"At Variety we believe that all kids deserve the opportunity to play. Variety Livvi's Place Albert Park will be a world class inclusive playspace where everyone is included, valued and feels they belong." said Variety – the Children's Charity Inclusive Play Manager, Kim Becherand.
"All kids should be able to experience the joy and benefits of playing together, and Variety is proud to partner with forward thinking councils like Cootamundra-Gundagai Regional Council on this very important project for the Cootamundra community." Ms Becherand added.
Variety Livvi's Place Cootamundra Facebook group
191105_Cootamundra_L01_Albert park Concept plan
210319 Albert Park Masterplan L-001 Draft